Judgment Criteria on 100% Natural Garlic Oil FCC Grade
Nowadays more and more garlic oil suppliers are emerging in large numbers in the food seasoning and condiments market. However, it is so strange that the garlic oil price varies considerably. Therefore, it becomes pretty important how do identify whether it is 100% natural garlic oil FCC grade. In this article, technical team from Hefei Dielegance Biotechnology Co., Ltd. will illustrate the judgment standard on 100% natural garlic oil FCC grade.
Garlic Oil (CAS NO.: 8000-78-0)
DESCRIPTION
Garlic Oil occurs as a clear yellow to red-orange liquid with a strong, pungent odor and a flavor characteristic of garlic. It is the volatile oil obtained by steam distillation from the crushed bulbs or cloves of the common garlic plant, Allium sativum L. (Fam. Liliaceae). It is soluble in most fixed oils and in mineral oil. It may be incompletely soluble in alcohol. It is insoluble in glycerin and in propylene glycol.
Function Flavoring agent.
REQUIREMENTS
Identification
The infrared absorption spectrum of the sample exhibits relative maxima (that may vary in intensity) at the same wave lengths as those of a typical spectrum as shown in the section on Infrared Spectra, using the same test conditions as specified therein.
Refractive Index Between 1.550 and 1.580 at 20°.
Specific Gravity Between 1.050 and 1.095.
TESTS
Refractive Index Determine as directed under Refractive Index, Appendix IIB, using an Abbe or other refractometer of equal or greater accuracy.
Specific Gravity Determine by any reliable method (see General Provisions).
Packaging and Storage Store in a cool place protected from light in full, tight containers that are made from steel or aluminum and that are suitably lined.
For the 100% natural garlic oil FCC grade, the judgement criteria is shown below in two aspects:
1. Emphasis on explanation for 100% natural garlic oil
1) 100% pure natural degree refers to that the oil is extracted from the raw garlic bulb only by steam distillation without any other vegetable oil additives such as soybean oil as it is soluble in garlic oil which can not be seen visually.
If added with other vegetable oil such as soybean oil, test result by C14 shall also show it is 100% natural as soybean oil is the natural oil.
2) 100% pure natural degress refers to that the garlic oil is not added with other chemical synthetics. If added, the pure natural degree shall be lower than the normal value even extremely low by C14 test.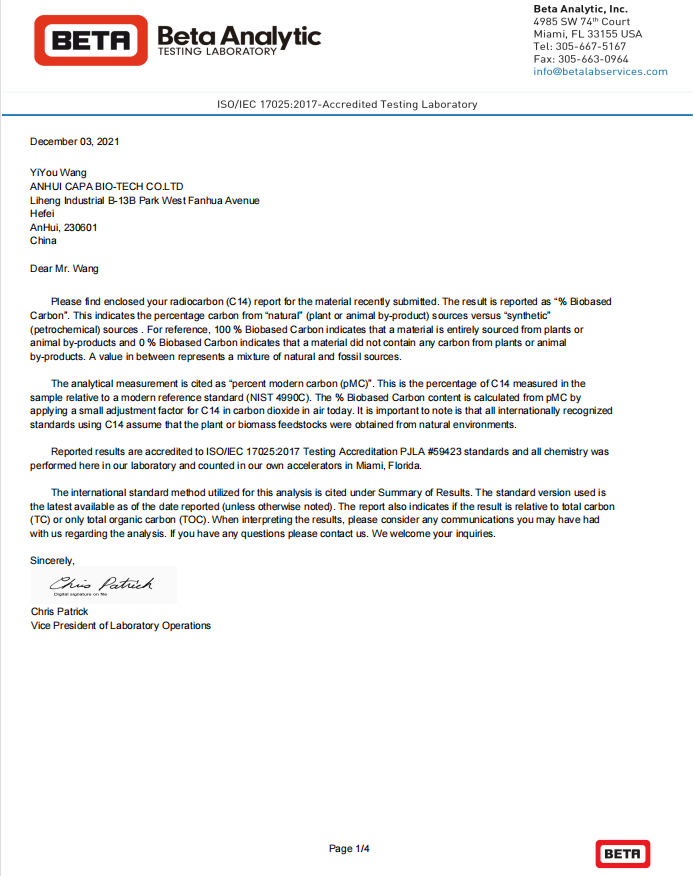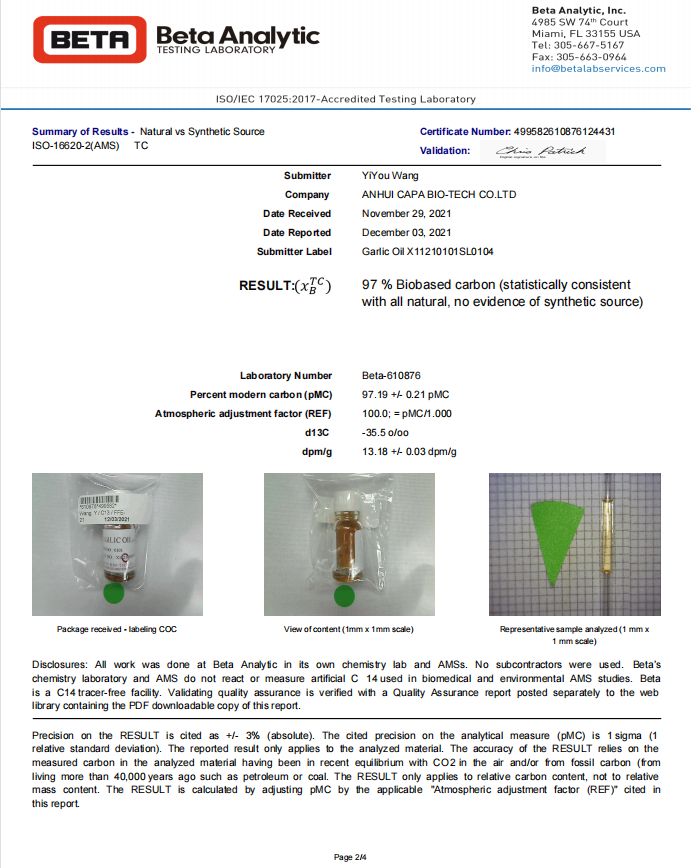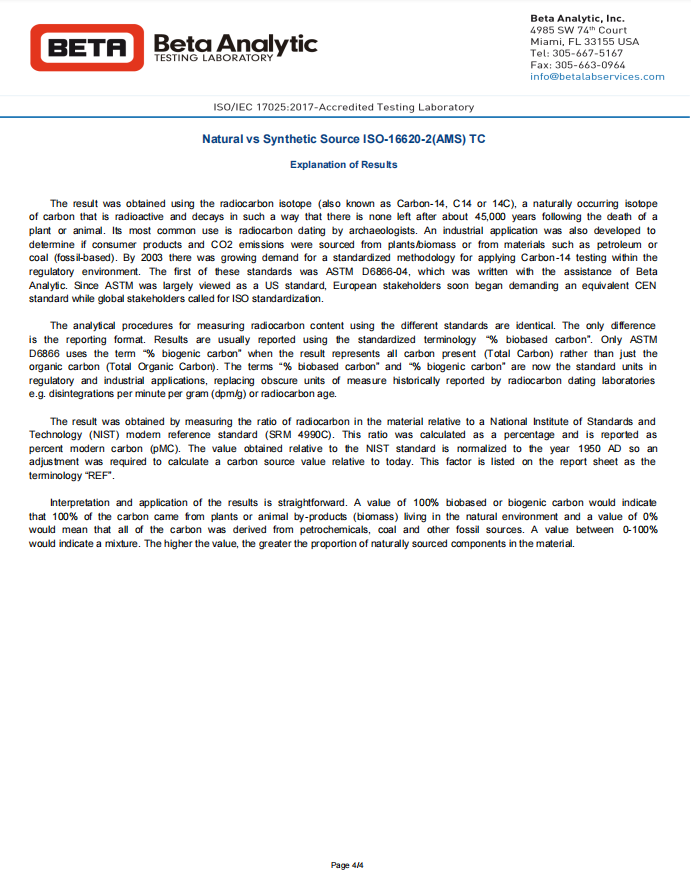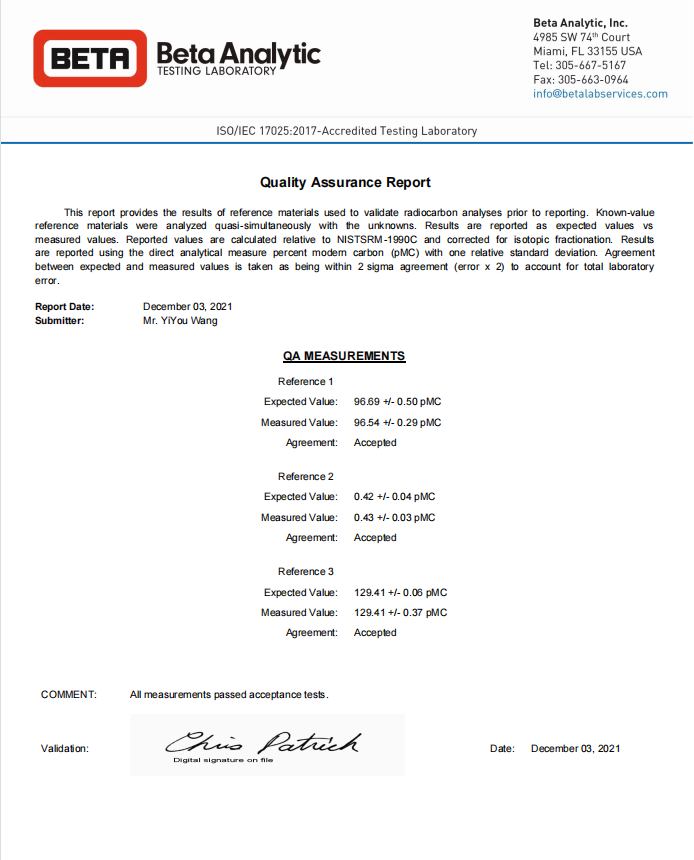 2. FCC Grade
This grade shows the chemical and physical index properties of 100% pure natural garlic oil (if added with vegetable oil such as soybean oil, then the density, refraction, etc. of garlic oil will be changed. Especially the fatty acid shall be discovered through analysis result in the chromatogram).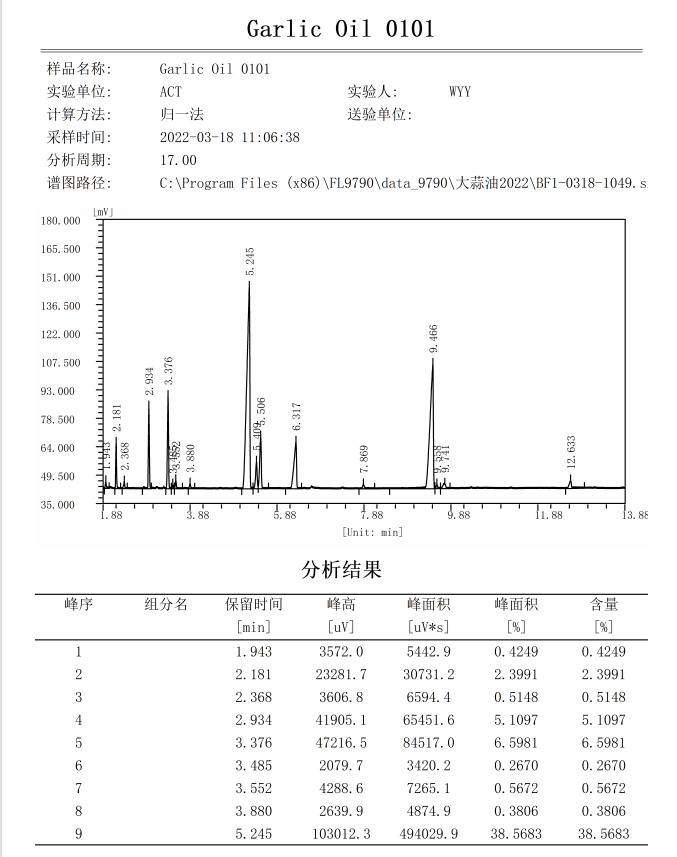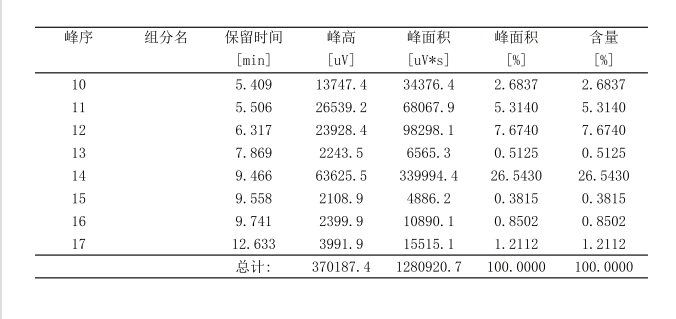 Test Methods
Gas Chromatography Method
By using a gas chromatography method that measures the amount and type of volatile compounds present in garlic oil, analysts can see a typical 100% natural garlic oil profile. The differences in volatile profiles (the ratios of those peaks) combined with the use of chemometrics are used to identify the non-natural garlic oils, making this method an effective screening tool.
Carbon 14 (14C) Dating Method
Carbon-14 is a standard scientific dating method used to measure the "age" of the carbon atoms present in a molecule. This method is often used in archaeology to verify the date of artifacts.
Carbon has three natural isotopes: 12C, 13C, and 14C. The first two are stable. 14C decays predicatively over time.
How does carbon dating help identify synthetic materials present? Natural substances will have higher levels of 14C atoms. Synthetic substances, such as fuel derived compounds, will be composed of carbon atoms that are without 14C.
Reviewing analytical results from both methods assures unadulterated, non-synthetic garlic oil supply.
Hefei Dielegance Biotechnology Co., Ltd., a professional garlic oil manufacturer and supplier in China within several years experience, is devoted itself to control each step of garlic oil production, including raw material selection, raw material cleaning, crushing, steam distillation production, C14 test as well as packaging.
Dielegance Biotechnology has devised a unique, dual-testing process, using both internal and external analysis to assure pure garlic oil supply.
100% Natural Garlic Oil FCC Grade in Stock
Are you looking to buy the best 100% Natural Garlic Oil FCC Grade at wholesale price? If so, Hefei Dielegance Biotechnology Co., Ltd. would be your trustworthy supplier and manufacturer for natural pure garlic oil. For more product details, you can check information on our product page Natural Garlic Oil or contact us via email address simon@dielegancebiotech.com.
Industry-leading 100% Natural Garlic Oil FCC Grade certified with MUI HALAL, BRC, ISO 22000, KOSHER, GLOBAL GAP is one of our most competitive products with stocks available all year round. By providing superior quality, we establish long-term relationships with our clients.