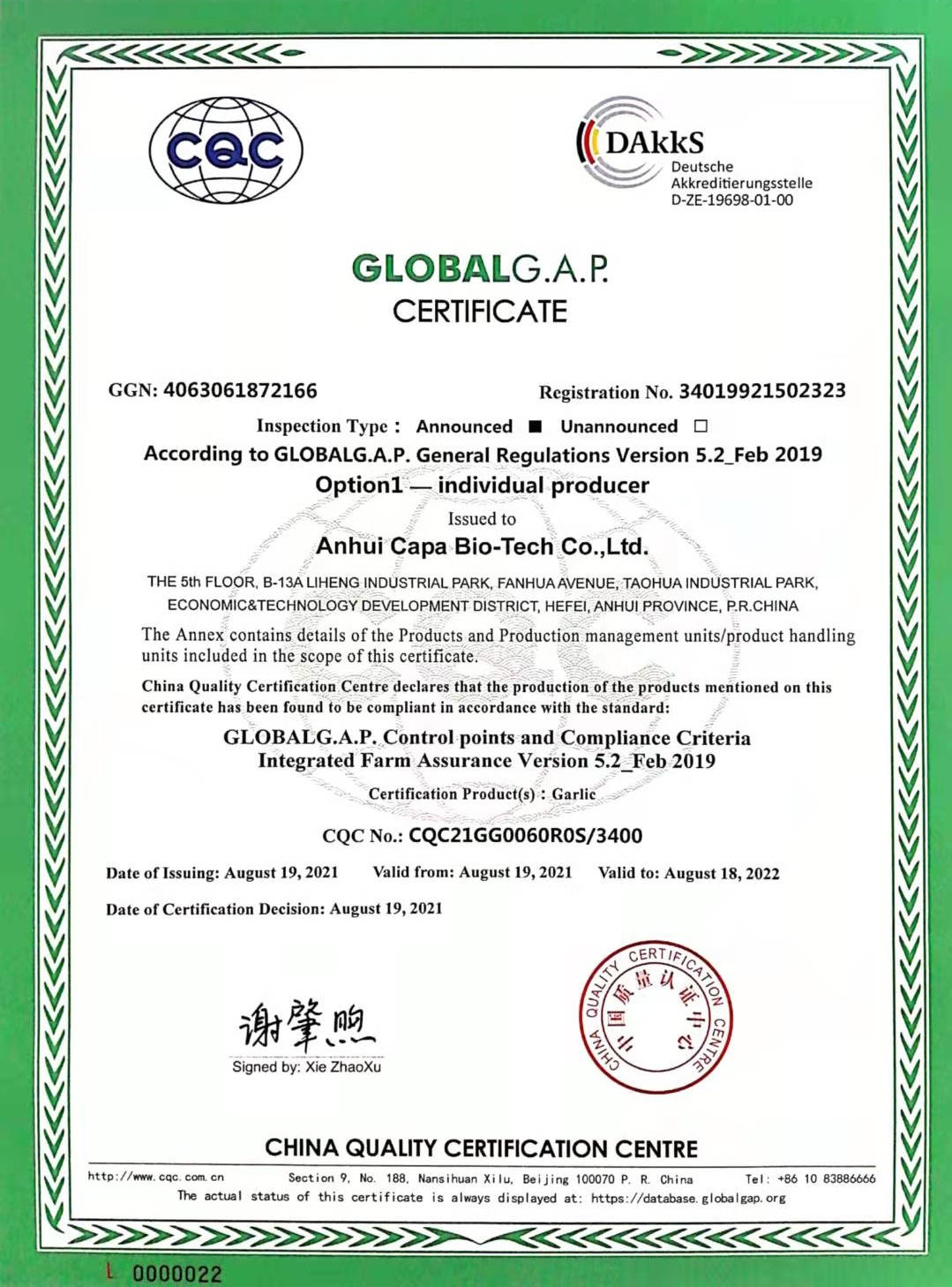 Health in food has been always the key topic for people. Regarding the most popular food seasoning garlic, garlic oil becomes more prominent.
Our sister company factory CAPA is trying its best to apply for the GLOBAL G.A.P. certification. We realize the importance for the food product from plantation to the end product. It is a good news that we get GLOBAL G.A.P. certification, which shows that we make a breakthrough in the garlic oil field. Therefore, we will get more market share in the worldwide hig-end market.
More and more companies are making efforts on the "smart agriculture" pilot project in the garlic products. Garlic oil or garlic essential oil, main products of our company applied to the food seasoning, heathcare field, is very popular in the world market due to its high cost peformance.
GLOBAL G.A.P. Certification is a international certification for the whole process of food chain from the plantation to the end product. After certified with this certificate, garlic oil from our company would benefit more people in the world. Nobody will worry about its quality.
Garlic oil, or oil garlic attracts attention from more and more people. It attributes to its health benefit, such as immunity improvement, anti-bacterial effect, reducing blood pressure, etc. More and more people are benefit from garlic oil in the food especially for those food added with garlic oil.
During this corona virus period, more and more people begin pay much attention to the human health. Garlic oil is also for personal use in the softgel or capsule form.
Along with the time going on, we deeply believe that our garlic oil will step into more and more corners in the world. In this way, more and more people get a good knowledge of garlic essential oil from us.
Hefei Dielegance Biotechnology Co., Ltd, will devote itself to this product from plantation to the poroduction.